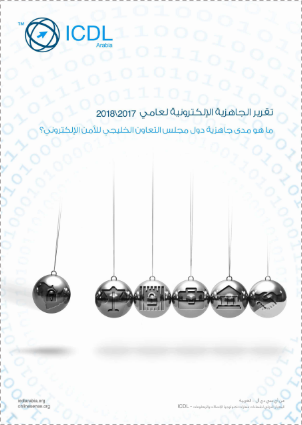 بصفتها رائدة فكرية في موضوع مهارات تكنولوجيا المعلومات والاتصالات والمرخص لها باعتماد معايير شهادة الرخصة الدولية لقيادة الحاسوب في المنطقة العربية، فإن مؤسسة أي سي دي إل العربية تفخر وتصدر تقريرها الرابع لتكنولوجيا المعلومات والاتصالات بعنوان "تقرير الجاهزية الإلكترونية لعام 2018" والذي يركز على أحدث التقنيات والمنصات على الإنترنت التي تؤثر على مجتمعنا. يقدم هذا التقرير نتائج دقيقة تستند إلى مقابلات شخصية مع السلطات المعنية ، وممثلين من القطاعات العامة لتزويد القراء بتحليلات عن مدى استعداد منطقتنا لحماية المواطنين من التهديدات والجرائم عبر الإنترنت.

كما يقدم التقرير تحليلاً نقدياً استناداً إلى تقرير الأمم المتحدة يركز على ترتيب البلدان في جميع أنحاء العالم بحسب جاهزيتها الإلكترونية، ويستند فقط إلى البنية التحتية التكنولوجية بدلاً من المهارات في المدارس وظروف المعيشة وأماكن العمل. نحن على يقين، مثل الآلاف من صانعي السياسات وصناع القرار والمربين والأفراد، بأنك سوف تجد هذا التقرير مفيداً وحاسماً في بناء مجتمع مدروس ومتفهم. شكرا لك ونرحب بتعليقاتك.

Following footnote text in Arabic will go here:
Copyright © 2018 ICDL Arabia, All rights reserved.
This report refers to a portion of the 2017 Global Cybersecurity Index published by the International Telecommunication Union.
To receive a printed version of this report, click here to raise a request via email.